Freedom & Restraint
by Dr. Susan Block.
We're just a few fireworks, a six-pack and a hot dog away from America's 247th birthday, engaging in a little 4th of July foreplay on the Love Train, flags waving and fireworks bursting as we roll, commemorating America's "freedom" from the Madness of King George.
We also celebrate our personal sexual freedom, even if that means being free to be restrained, chained and whipped like a slave—as fantasy roleplay—with enthusiastic consent only, of course.
Freedom for Plantations
Fighting the British "taxation without representation," the Founding Daddios of our nation (many of them Freemasons) ruled like kings of their own plantations.
George Washington's slaves grew tobacco—and hemp!—on his plantation and Thomas Jefferson had sex with one of his many slaves, Sally Heming—who, being a true slave, couldn't consent to anything—on his plantation. Ben Franklin didn't have a plantation, but he did partake in Paris orgies and consensual dalliances with European ladies in between diplomatic efforts to gain French support and Italian admiration for our new revolution.
Fun factoid: Both Franklin and Jefferson gained ideological inspiration for our Declaration of Independence and Constitution from their Italian pen pal and philosopher of the Enlightenment, Gaetano Filangieri, who happened to have been Capt'n Max's great great great great great grandfather.
No wonder the "pursuit of happiness"—bonobo-style—flows through our veins!
Back to those great, huge and highly profitable New World plantations. It appears that one rather inglorious reason the American colonies wanted to break away from Mother England was that Mama was about to free their slaves (Great Britain abolished slavery in 1807, almost 50 years before the U.S. Civil War), and America, the new cradle of profit-driven capitalism, wanted no such thing.
Freedom is the Greatest Aphrodisiac – But Restraint is a Close Second!
So, it's a mixed bag, this great country of ours, as most great countries are, and there's a lot to criticize and improve (Critical Race Theory, anyone?), but there's still much to celebrate on this FDR with a classic fire-working, hot-dogging, beer-busted, summer-hot, orgasmic affirmation of freedom.
Let freedom reign. More than just about anything, people want to feel free. Feeling free is almost as important as feeling love, and sometimes more important; lots of us give up love to be or just feel free.
What about sexual freedom? Freedom is the greatest aphrodisiac—but restraint is a close second. I'm talking about consenting adult restraint, of course, as practiced in BDSM and other forms of kink where the "slavery" is inherently a fantasy. Real slaves (who, sadly, still exist all over the world) don't have the freedom to consent to restraint or anything else.
Fortunately, we do. And we vigorously defend that freedom, which includes our freedom to speak in our Speakeasy about issues that aren't so easy to speak about, such as freedom and restraint. Unfortunately, like so many on the Left, on the Right and in sex education, our voices are more and more restrained, my personal accounts banned on Facebook, Instagram and YouTube. It's unconscionable that we have been muzzled in this matter, mostly thanks to the rapidly rising power of AI (Artificial Ignorance), in the "commons" and public squares of social media that used to be much more free… for you and me.
Censorship & Friendship
Restrained by purposely vague "guidelines" enforced by bots steered by algorithms, we are prevented from speaking just when a real "speakeasy" about current events in politics and sex is more vital than ever.
So, we're extremely grateful for our friends who aren't afraid to show their support, like Rhiannon Aarons who made up a petition to "Restore Susan M Block's Facebook and Instagram Accounts" and GasMaskGirl who just tweeted a similar demand to YouTube.
Student activist and SUZY award winner Chris Gagliardi, who has called for restoration of my terminated accounts, as well as other sex educators and sex workers' accounts (I'm far from the only one) with his hashtags and speeches, calls in on Callin with another great speech in support of freedom.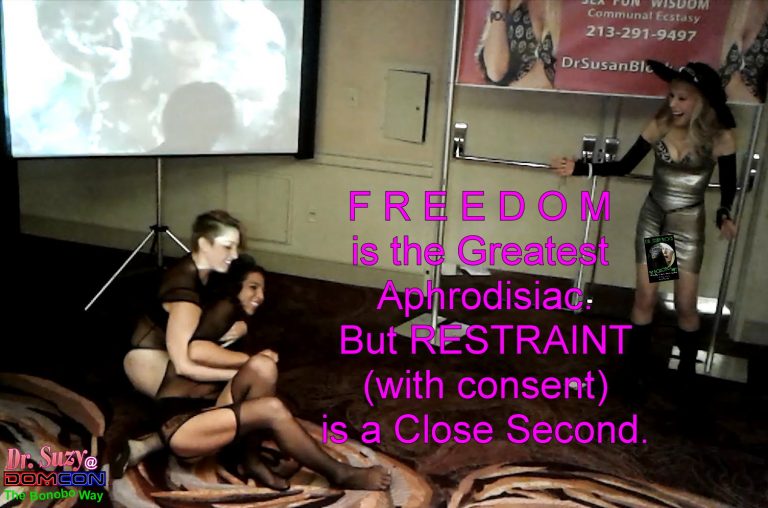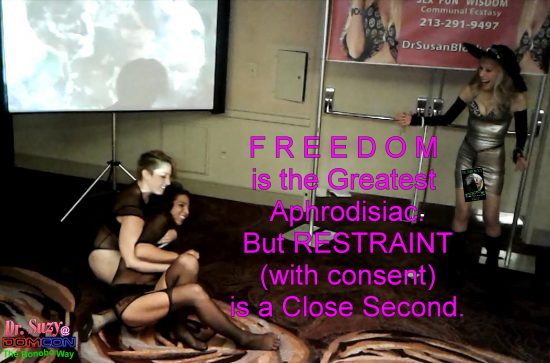 We also take calls from Joe Apollo—who is, as always, passionate about making Left and Right unite for Universal Health Care and "Universalism" in general—and Shardoll who wonders why a strong woman (such as, perhaps, myself) sounds to him like dominatrix. Sounds to me like Shardoll wants to be restrained by a sexy Domme. He also wants tips for a romantic date. Considering the season, I suggest seeing fireworks together. It's true, pyrotechnics are not ecologically friendly. They're also dangerous.
Pro-Tip: Don't set off fireworks while holding them in your hand, or you could lose your fingers—and how are you going to finger someone with no fingers?
If your neighborhood's already having a fireworks display, it makes a great date: Orgasms for the eyes on the 4th of July is great foreplay for explosive sex later on. We'll see if Shardoll takes my advice.
"Most Popular Sex Educator" Urban X Award Nomination
Speaking of sex-tipping, I was just nominated by the Urban X Awards for "Most Popular Sex Educator" for 2023.
Am I "urban" enough? It depends on your definition, but considering how "popular" my fellow nominees are in terms of Twitter followers, I don't expect to win.
These illustrious fellow nominees include the lovely and extremely popular Sinnamon Love ( (a great guest on The Dr. Susan Block Show back in 2001 and on Eros Day Orgy for Obama (2009), Glamazon Tyomi, Jet-Setting Jasmine, Pegstress, Madame Carmen, Jessica Drake and Ericka Hart.
In these trying times of rising sex education censorship, banning books, defunding Kinsey and firing sex educators just for doing their jobs, it's a delight to share nomination honors with such a great group. Thank you, Urban X Awards, for honoring our sex educational work and play!
"Horny is a Beautiful Thing" – Sue Johannson
Speaking of great sex educators, RIP Canada's wonderful "Talk Sex" host, Sue Johanson, who just passed away at 93 years old, proving that being sex-educated helps you to live to a ripe old age.
I never had the pleasure of meeting Sue personally, but because we shared a name and a calling, I was sometimes confused with her, and always considered it a compliment.
One of her signature statements was "Horny is a beautiful thing."
Amen and Awomen to that!
France Burning, Vice Coming, Free Assange!
Meanwhile, France is on fire. With all the censorship and fake news, it's hard to tell what's really happening, but it looks like France is experiencing a nation-wide rebellion that makes America's 2020 Black Lives Matter demonstrations look like yoga class.
We support the protests against the cold-blooded murder of Nahel Merzouk, the 17-year-old of Algerian descent killed at a traffic stop in the Paris suburb of Nanterre by French police, but we decry the incendiary violence and destruction. The brutal colonial history of France in Algeria and elsewhere cannot be forgotten, but watching our beloved France burn like a bunch of broken firecrackers doused in kerosene is incredibly painful.
Next, a bit of good news: Our long-awaited Vice documentary featuring our Bonoboville Reunion is premiering July 18. Don't miss it! Thank you for freeing Vice from bankruptcy, George Soros!
And speaking of freedom… Free Julian Assange! We have supported the great antiwar Wikileaks journalist since 2010. Censorship is one kind of nonconsensual restraint, but it is mild compared to the horrendous torture and incarceration that Julian Assange has endured. Anyone who values "freedom," should fight for freedom for one of the greatest freedom fighters of our times, Julian Assange.
© July 1, 2023 Susan Block, Ph.D., a.k.a. "Dr. Suzy," is a world renowned LA sex therapist, author of The Bonobo Way: The Evolution of Peace through Pleasure and horny housewife, occasionally seen on HBO and other channels. For speaking engagements, call 626-461-5950.