F.D.R. (F*ck Da Rich): Fantasy Tailgating
Length 1:28:08 Date: Feb. 6, 2021
by Dr. Susan Block.
Follow the bouncing balls (oops, they're a little sweaty), as Capt'n Max, the Bonoboville crew and I take the 55th Superbowl Streamliner, tailgate-style, through some of the week's games, wild fantasies, brave new realities, insights, eargasms, Big Tech's "Dumb Bot Drone" censorship battles (on the YouTube AND Facebook fronts for us this week—how about you?) and erotic comic politics.
All aboard the Speakeasy Bar Car where we dine on celebrity sex scandals (#EatTheRich), from Armie Hammer's alleged cannibalism fetish to Marilyn Manson's reported abuse, along with an intriguing statement from Dita Von Teese (a DrSuzy.Tv guest on our Bettie Page show, etc.), plus cuck-calling cuckold Roger Stone's suspected role in the Insurrection, with an indigestible dollop of Margarine Taylor Greene on QAnon Koolaid-laced Trumpty Dumplings.


What will prevail: Rightwing Stupidity or Leftwing Timidity?


And we wonder: what will prevail: Rightwing Stupidity or Leftwing Timidity?
Having been interviewed that morning on WCAP-AM 980 Active Radio with Hartley Pleshaw, who compares the violent Trump Riots to the Rev. Dr. Martin Luther King's peaceful 1963 March on Washington, I'm inspired to deliver my own little "I Have a Dream"-inspired, "I Have a Fantasy" State of Sex 2021 Address. Then, as the train whistle blows, we wish you a Happy Horny Valentine's Day, World Bonobo Day, Lupercalia (the original pagan Valentine's Day), and Kung Hei Fat Choi. Happy Chinese New Year of the OX! #GoBonobos for the great Himalayan water buffalo who helped me survive a deadly monsoon.
Listen above or below…
Crave more insight into what you just heard? Keep reading…
Everybody Must Get Stone(d)
Memo to Self: Whenever Roger Stone is trending, just remember he's a filthy hypocritical cuck-calling cuckold with a Dick on his back.


From Tricky Dick Nixon's dirty tricks team in the Swinging '70s to the Brooks Brothers Riots of 2000 (that actually did help to literally "steal" the 2000 election for super war criminal George W. Bush) to the Rape of the Capitol in 2021, Roger Stone has his slimy fingers in every Republican poison pie force-fed to the America people.
Armie Hammer on the Menu Again
Speaking of pie, personally, I'd rather not take another bite of the Armie Hammer scandal. However, some people are hungry for it, so when Armie's arm-and-foot-eating fetish trended in my *feed* for hours on the day of this broadcast, I couldn't help but wonder: Did they find a human pot roast in his oven? Human toes in his freezer? Nah, it was just that his publicist and agent both quit, and in Hollywood, this is a much bigger deal than violent dismemberment.
It's ironic that though Armie's alleged fetish is cannibalism, he's the one being metaphorically eaten alive by social media… then regurgitated and eaten again; that's how tasty he is.

They say "Eat the Rich," but these stars appear to be starved.

Being a conscientious sexologist and kink-positive sex therapist counseling many types of cannibalism-fantasizing clients, I'm especially aware that not everyone with cannibalism fantasies actually eats people(!) or commits crimes of any kind. In fact, the vast majority do not. Even though I can't help but laugh at some of the tasteless (pun intended) jokes and make a few of my own, I also try to convey some compassion and never condone kink-shaming. Of course, if someone's really killing, raping, cutting, coercing, abusing or—Saturn-forbid—eating people, that's violent crime; therefore, to condemn it is not kink-shaming. Here's where it's important to separate fantasy—where anything goes in the Erotic Theater of the Mind—to reality, where there are, or ought to be, hard limits and laws.
We should also separate BDSM and kink—which can be great and even healing with enthusiastic consent—from coercion, which is never good. Nevertheless, despite our best efforts, some kinks, like the Armie Hammer variety, seem to crisscross those boundaries, perhaps in part because cannibalism is in the DNA of our darkest prehistoric nightmares.
We're all carnivores on this show, regularly consuming the flesh of our fellow animals without much thought. But just mentioning "cannibalism" makes us sick… as it should—or else more of us might do it!
Indeed, I imagine all the vegans are feeling pretty smug hearing all this.


Listen above or below for more.
Manson Madness
Another celebrity in the sex abuse news is Marilyn Manson, accused of various forms of torture by his ex, Evan Rachel Wood who testified about it before Congress, though she didn't name him until last week. Phoebe Bridges (on SNL the night of this live broadcast) said Manson showed her his self-declared "rape room" when she was a "fan," but she was so turned off by his "horrible frat boy sense of humor (that she) stopped being a fan (and she) stands with everyone" currently accusing him of abuse. #MeToo leader Rose McGowan, who was engaged to Manson in the early 2000s, says he didn't abuse her, but she supports Evan because, well, #MeToo.
Former "Queen of Porn" and current QAnon'er Jenna Jameson chimed in to recount how the "Antichrist Superstar" fantasized aloud about burning her alive when they were dating, but never actually fired up the barbie, though he did "bite" her too hard.
Ouch!
Does biting lead to cannibalism or are my celebrity sex news feeds cross-pollinating?
They say "Eat the Rich," but these stars appear to be starved.
Then again, I realize, I myself enjoy a little biting occasionally. Capt'n Max is a bit horrified to hear me disclose such intimacies on live radio, but he doesn't censor me as I wonder: Am I a quasi-cannibal because I enjoy biting his hard nips? Not too hard, though; I'm no Marilyn Manson.
I wonder why the name "Manson" has been coming up on F.D.R. for the last few shows, along with my middle name "Marilyn" eerily in Brian Warner's cheeky mix. Max and I are not exactly Marilyn Manson fans (Abe and Mariah are). Interestingly enough, he used to frequent our old downtown building's kinky art gallery, Studio Servitu, curated by a fork-tongued beauty named "Miss Crash," another Mansonic protégée.


Most notably, Marilyn Manson's beautiful, elegant and iconic ex-wife, burlesque star, fetish model and lingerie businesswoman, Dita Von Teese, visited my show a couple of times, the first when my featured guest was Bettie Page, and then again by herself when she demonstrated a little light bondage.
Regarding the MM scandal, Dita put out this statement: "Please know that the details made public do not match my personal experience during our 7 years together as a couple…. Had they, I would not have married him … I left 12 months later due to infidelity and drug abuse… Abuse of any kind has no place in any relationship she added. "I urge those of you who have incurred abuse to take steps to heal and the strength to fully realize yourself. This is my sole statement on this matter. Thank you for respecting this request."
It's diplomatic towards all sides, making sure to support the alleged victims as well as MM who she implies never abused her. I agree with those who say that "incurred abuse" is a bad choice of words, suggesting that the victim asked for it. "Experienced abuse" would have been better.
Yet I do empathize with the difficulties inherent in choosing those *right* words, especially in these days of censorship and misunderstanding. The social media mobs make it seem so simple—just do and say the right thing—but real life is a lot more complicated than a tweet or even a "statement," especially when people's lives are at stake.
Consent is King and Queen and Gender-Fluid Ruler of Kink. I used to think those "kink contracts" were silly 50 Shades stuff. But now I see it's not a bad idea to get consent to certain activities in writing, especially for celebrities and the people who choose to engage with them. Better to "ruin the mood" than anyone's whole life… assuming you're not forced into signing the contract, which I suppose you could be.
Nip Slips & Dumb Bot Bullies
Heads or tails, hats off to 2021 Superbowl Tailgate Queen, Miley Cyrus, one of Capt'n Max's favorite living humans. My own winning choice for Superbowl entertainment has long been Janet Jackson's Boob Tube Superbowl of 2004; what a lovely surprise! Though I did feel embarrassed for America, getting our Puritanical underpinnings in a twist, making such a fuss about a nip slip, a.k.a., "wardrobe malfunction." Even worse, media censorship of sexuality increased, and now we find our Freedom of Speech more rigorously policed, much to the detriment of a civil society.


Speaking of censorship, Google dba YouTube is still censoring and defaming us, having hit our show "F.D.R. (F*ck Da Rich): After the Insurrection," with a Dumb Bot Drone. Our channel is back up, but if you click on that show, there's YouTube libeling us, accusing us of "harassment and bullying" that we clearly did not do. But what can we do when there's no one to talk to?
We did win a small, but important battle with Google Ads, another subsidiary of the great "Do No Harm" Google Monster, mostly because there was someone to talk to. Though I couldn't talk with the decision makers on the "Concern Team"–an Orwellian title of titles since no one on the Concern Team were ever "concerned" enough to talk to me–I could talk with a sort of ambassador Googler, which is better than a bot.
It did start with bot-driven censorship. I've been running an ad on Google since 2007 for "Phone Sex Therapy," which is, of course, what we specialize in at the Dr. Susan Block Institute. Then suddenly, in November 2020, after 13 years of freedom, Google banned the phrase "Phone Sex Therapy." My ads, all of which used those words, were all canceled immediately. That was bad enough, but Google is not the government, so it's their prerogative. What was not their prerogative was that as soon as my own ad were censored, the Google Ads bot made up a new ad *for* me, posted it and charged me for it without my permission or even my knowledge… until I got the bill.
So, of course, I asked for a refund, and was told "No, absolutely not… This is your problem, not ours… Google Ads does not give refunds," etc. for about three months. So I came up with a compromise: How about half? After a few more weeks of back and forth (costing both of us, in terms of time, more than what Google owed me), finally and against all odds, I got a yes. Woohoo! Winning a battle with the Google Monster feels good.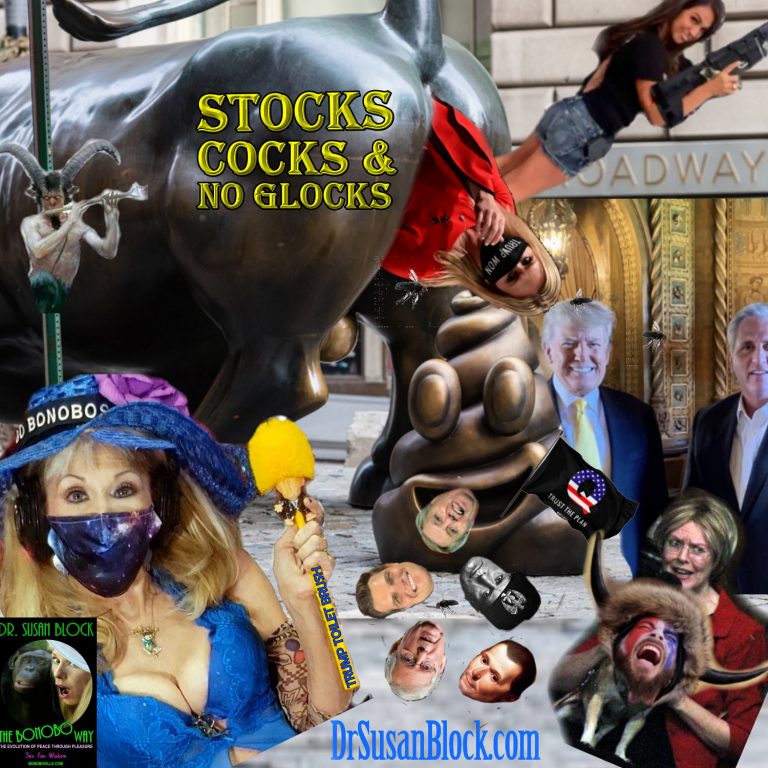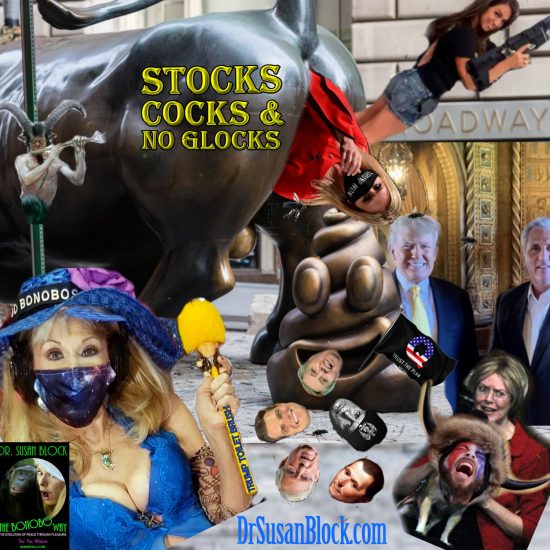 But no day is perfect. I have never had a perfect day. I have also never had a day which was entirely bad, so I guess it evens out. Anyway, that same wonderful day I won the battle with Google, I opened my Facebook profile to discover that Marky Z had banished me, aka thrown me into "Facebook Jail," for 30 days—for something I'd posted 12 years ago!
Making matters more confusing, the 2009 post didn't have any nip slips or any image at all. Just these words:
"Domination Family [RadioSUZY1] – 10.03.09 Slaves, lovers, porn stars and dominatrixes unite on RadioSUZY1. Between Persia Monir, Boi, Goddess Soma, Mistress Eva, Miss Antoinette, Princess Sheila and Kelly Shibari, we have a little somethin' for everyone (including a lot of nude boobs). …Our almost pro-golfing/porn star "Hot Mom" Monir tells us about her nursing background and how she'll still take care of you while Goddess Soma's entourage of leather-clad hotties in the background revel in their ultimate BDSM-ness. Oh, how we wish our parents were cool enough to send us to Gay Camp."
Listen above or below for our raw feelings on how unbelievably unfair this is, not just for us, but for millions of individuals who are, right now, being unjustly censored too.

Little by little, Big Tech is destroying the English language, and probably all the other languages too.

Ironically, celebrities like Cardi B (whom I adore), are rarely censored, though intensely erotic art like "Up" is often just as "suggestive" as ours, because money talks. Max calls it "digital capitalism."
Not only do "Da Rich" get more Bentley Betaygas and Birkin bags than the rest of us, they get easier access to Free Speech.
Abe points out that on Twitch, many words—such as "simp," "incel" and "virgin," for starters—are censored if they're used as "insults." Do Twitch bots *know* the difference between insults, jokes and political commentary? I know from personal experience that YouTube's bots don't, so I can extrapolate that Twitch bots don't either. Unfortunately, that doesn't stop these Dumb Bots from droning down innocent Twitchers talking about that cartoon where President Lisa Simpson addresses a reporter's question about the incel problem on a Virgin Airlines flight.
Little by little, Big Tech is destroying the English language, and probably all the other languages too.
This censorship is supported by the Religious Right, but also by the "Woke" Left that cheers the shut-down of rightwing accounts. Don't they see that the executioner's blade will soon come down on members of the Left as well, as we use the same "keywords," and of course, the sex workers?
I even support Florida Governor Ron Desantis (with whom I usually disagree) drafting new legislation against Big Tech censorship and privacy violations.
But my favorite anti-censorship protest this week was the transformation (for about a minute) of our beloved Hollywood sign into a Hollyboob sign. Also aiming to raise breast cancer awareness, this illegal (but non-vandalizing) installation's co-creator is the intrepid exhibitionist, Julia Rose, who couldn't make it to the Superbowl, but is famous for flashing the 2019 World Series.


Speaking of censorship, Free Assange!
Wikileaks publisher Julian Assange is not *just* being censored, but also held in solitary confinement in one of London's worst prisons. The "Sorest Loser" didn't pardon him when he had the chance. So, Joe—and Joe's Justice Department crew—it's now on you!
I Have a Fantasy…
Censorship isn't sexy.
At least, that's the apparent goal of the censors: to unsex our psyches. However, sexiness is a mischievous energy, often popping up or leaking out when it's not "supposed to."
Sexy or anti-sexy, I find myself talking about censorship a lot lately, on our own shows and others, mainly because I'm experiencing it more and more, as are my friends, foes and everyone else who isn't famous enough to buck the Big Tech bots or bet big in the Digital Capitalism Casino.
It's one of the main topics of discussion, along with Valentine's Day, finding love in the Coronapocalypse and The Bonobo Way, that "Active Radio" host Hartley Pleshaw asks me about in our interview on WCAP-AM 980 that morning.


Hartley had half-jokingly asked me to give a State of Sex in America, 2021, like a State of the Union address, which intimidated the hell out of me. Between the commercial breaks (this was "real radio"!) and all his other questions, there wasn't time for that anyway.
However, in preparation for our interview, I listened to Hartley's most recent show contrasting the Reverend Dr. Martin Luther King and his March on Washington with tRump and the Capitol Riots. That drove me to re-watch Dr. King's amazing "I have a dream" speech from 1963. Abe says he visited the spot, and come to think of it, when I was a Girl Scout, so did I.
Part of his dream was that one day we would "judge each other not by the color of our skin, but by the content of our character." That dream seemed like a pipedream then, and a few years ago, I thought we were almost there, but right now, it feels like we've slid backwards. Luckily we're still on our way; with two steps forward, a step back and two steps forward again, that dream is coming true.
Dr. King's dream has inspired so many people, including me, a humble sexologist. So, with deep apologies—though I understand Dr. King was not a Puritan in his private life—I'd like to say "I have a dream." Or perhaps, considering who I am, I should say: I have a fantasy…
I have a fantasy that one day good clean consensual sex will not be considered dirty.
I have a fantasy that one day we will be able to talk freely and honestly about our sexuality without censorship.
I have a fantasy that one day a woman's genitals—open or closed—and her nipples—hard or soft–will not be considered obscene.
I have a fantasy that one day a man's genitals—soft or at attention–will not be considered indecent.
I have a fantasy that one day we will value LUST over GREED.
I have a fantasy that one day sex education and science will be valued over ignorance, superstition and empty so-called patriotism.
I have a fantasy that one day we will not just decriminalize sex work, but destigmatize it, and subsidize it for the needy.
I have a fantasy that one day we won't be discriminated against for our sexual orientation.
I have a fantasy that one day we will all really and truly love one another—body, mind and soul.
I have a fantasy that one day, we will practice the bonobo way of female empowerment, male well-being, sharing resources and peace through pleasure… instead of acting like baboons.
I could go on. I have many fantasies, and I'm sure you do too. Just remember that the people who want to censor your fantasies tend to be the ones with something BIG to hide (and I don't mean their genitals).
But hey, we shall overcome someday.
Hartley must have some of the same fantasies that I have, because after the show, he emailed: "please accept my designation of you as the Official Sexologist of Active Radio!"
With pleasure.
Valentines & Oxen
We also get set for Valentine's Day, World Bonobo Day and Lupercalia, the original Valentine's Day, though we really don't have time to get into it this episode.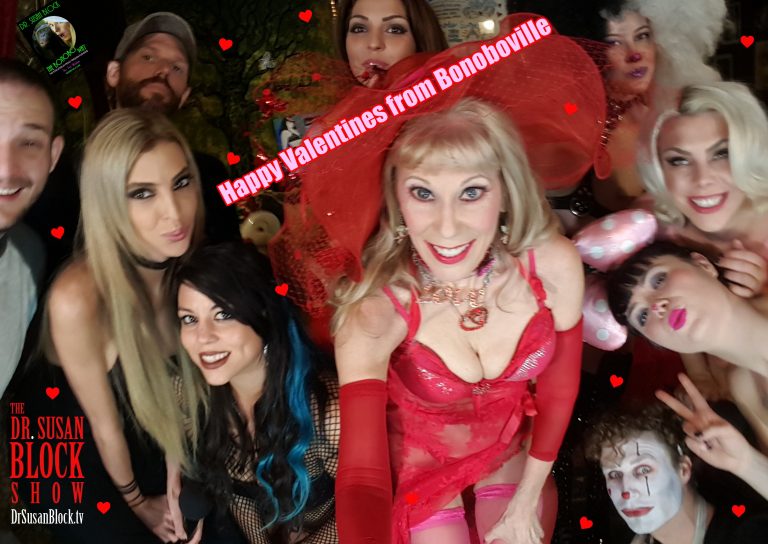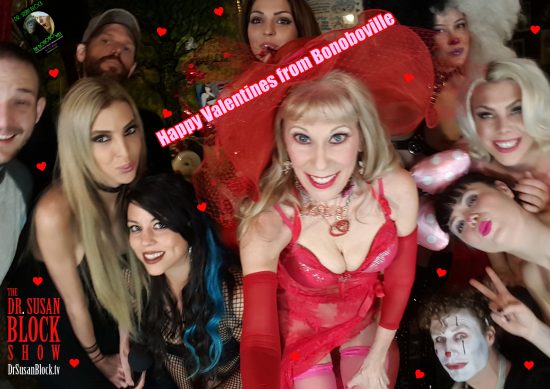 Watch Lupercalia 2020 for a taste of the whip the way we used to swing it before the Coronapocalypse separated our bodies.
And tune in next week to F.D.R. for a deeper discussion of the High Holidays of Love from your Love Doctor and crew.
We do have time to #GoBonobos for the Chinese New Year of the Ox.
Enough of that Dirty Rat!
To celebrate, I recount my own Himalayan mountain village experience during a cataclysmic monsoon. It's a distant memory, fogged by the years (I was 19) and the LSD I was on, but I distinctly remember running, soaking wet, bleeding and tripping (in more ways than one) through a field of giant water buffalo, a.k.a. Nepalese oxen—so huge, fast and very frightening, yet really just as frightened as I was—grunting and pooping as they ran right along with me, all of us frightened animals seeking shelter as the torrents poured down on us, threatening to drown us in fields of mud and feces. It was horrific; yet as I ran with the water buffalo oxen, I realized that these big scary creatures were actually quite peaceable and in a way, they were carrying me—like giant, grunting, pooping angels—through those rapidly flooding fields to safety.
With that crazy, awful but beautiful memory, I share hope for a peaceable and productive Chinese New Year of the OX (love that "x") that will get us safely out of this field of bloody bullshit through which we are currently tripping.
Hope is good, but then… I was also hopeful about the Year of the Rat, and look how that turned out.
Kung Hei Fat Choi anyway. Happy Year of the Ox!
Remember, "OX" can also mean a hug and a kiss.


February 6, 2021 Susan Block, Ph.D., a.k.a. "Dr. Suzy," is a world renowned LA sex therapist, author of The Bonobo Way: The Evolution of Peace through Pleasure and horny housewife, occasionally seen on HBO and other channels. For speaking engagements, call 213-291-9497
---
Explore DrSusanBlock.com
Need to talk? Sext? Webcam? Do it here. Have you watched the show? No? Feel the sex. Don't miss the Forbidden Photographs—Hot Stuff, look at them closely here. Join our private social media Society. Join us live in studio 😊. Go shopping. Gift shop or The Market Place. DrSusanBlock.tv, real sex TV at your toe tips. Sex Clips Anyone? FASHION, we have fashion! We also have politics. Politics? Have you Read the book? No? How about the Speakeasy Journal? Click here. Ok, how about some free sex advice?
---
---