Cougar Equinox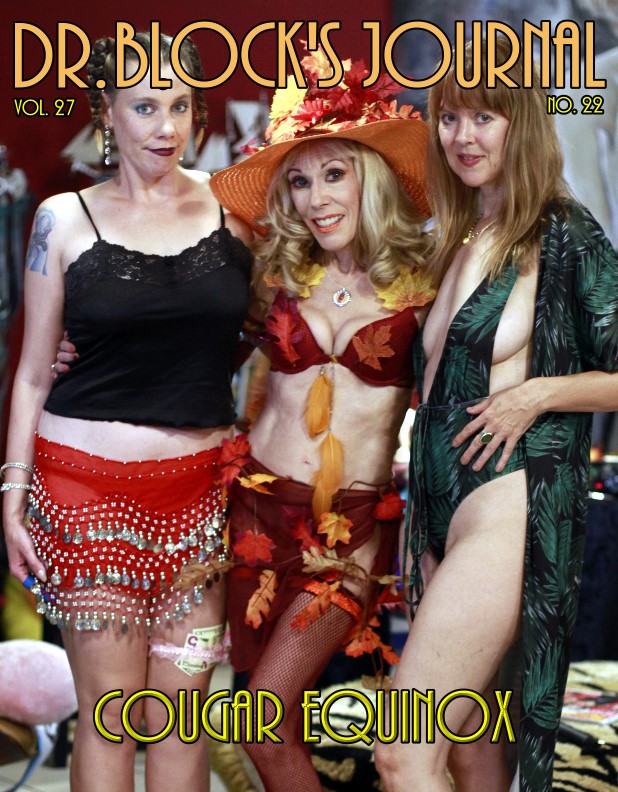 Length 01:28:01 Date: Sept. 21st, 2019
by Dr. Susan Block.
It's a spanking hot Night of the Cougar, the sexy mature female on the hunt for younger males, on the eve of the Autumn Equinox on DrSuzy.Tv.
As the sun falls across the Earth's equator from north to south, my wish is that we all fall into the Bonobo Way of peace through pleasure in all kinds of weather.
The Fall of Persephone
Speaking of weather, does it feel like Fall to you?
It sure doesn't feel like Fall to this Philly Girl, not here in sunny So Cali, where Apollo's golden rays still shine strongly enough for my pre-show dip in the Bonoboville pool.
To give it that Fall feeling, I float fake wreathes of burnt orange and burgundy leaves in the rippling water.
Challenging our dread of death, the colorful Fall foliage shows us that the natural hues of death and dying can be radiant and beautiful.
I lay back in the cool of the pool among the autumn leaves, fantasizing that I am Demeter (Ceres to the Romans), great Greek Earth Mother Goddess of the Harvest.
To explain the changing seasons, the ancient Greeks told the story of the "Fall," aka the "Rape" of Persephone, Demeter's darling daughter.
Like many unfortunate virgin maidens then and now, Persephone is raped by her rapacious uncle who, in this case, is Hades, aka Pluto, Lord of the Underworld, the Kingdom of Death below the ground.
Before that rape, according to the myth, the world was in a state of perpetual Spring. After the abduction of her beloved Persephone (aka Proserpina), Demeter is so divinely upset, she lets the Earth go to shit.
Call it "climate change," Greek mythology-style, and it would have been the end of life.
However, in her grief, Demeter finds her desire and determination to get her daughter back, even if just part-time.
The great fallen goddess rises to the occasion and essentially works a deal with her brother Hades and her other brother Zeus, aka Jupiter, whereby Persephone stays six months with her on Earth when it's Spring and Summer, and six months in Hell with Hades, when it's Fall and then Winter.
Not bad for saving life on Earth.

So why don't we make a deal to prevent our coming climate catastrophe?
We'll forego flying, air-conditioning and plastic straws, if you—Zeus, Hades, tRump, McConnell, Pelosi, et al—shrink the U.S. Military, the biggest and worst polluters in the world by far.
No deal, you say? Okay; we strike!
The Greatest Cause on Earth
In fact, the day before this live broadcast, millions of people—mostly youth inspired by the amazing example of teen environmental activist Greta Thunberg—participated in the biggest worldwide Climate Change protest in history, chanting:
Climate change is not a lie, please don't let our planet die.
Nice rhyme, kids, though technically, the planet (Gaia to the Greeks) won't die… but the human race might, and many other species are already dying. This rock, "our planet," will survive climate catastrophe, as it has gotten through several mass extinctions, but it is likely to become unlivable except for a few cockroaches and microalgae.
But I'm nitpicking; I love the youth people's involvement. They're so sexy—can I say that? I'm only referring to the ones who are over 18.
PHOTOS 1-2: BIANCA. PHOTOS 2-5: CARL RUSSELL
Hopefully, they're sexy enough to inspire YOU to join them. Besides being a great cause—possibly the Greatest Cause on Earth—it's effective therapy for Post-Trump Sex Disorder. After all, it's a party in the streets… with very serious intentions.
March for ecology, meet like-minded humans, maybe even find love, and don't forget to vote out the worst Climate Change Denier in history.
And he's getting worse, now revoking California's authority to set stricter auto emissions standards, sending us hurtling back into the bad old days of brown skies and choking smog. This will literally make us sick—or sicker (my occasional coughs and congestion on this show lets you know how sick I am from just breathing our filthy air)—not 50 years or even five years into the future, but right now.


And honey, if tRump doesn't make you sick, you are sick.
If you're suffering from so-called Trump Derangement Syndrome or Post-Trump Sex Disorder, that means you're alive and thinking. The treatment: Protest, impeach the Pussy Ass Bitch (c'mon Nancy!), and if he's somehow still in our White House next year, vote the Tyrannical Toddler out. 
Hey hey, ho ho, Donald Trump Has Got to Go!
Let's spank that pollution-belching Pussy Ass Bitch (who has the gall to blame his orange fake tan on energy-saving light bulbs) right out of our White House!
Happy Mabon'er
The Wiccans call Fall Equinox "Mabon," after the Welsh harvest god of that name.
Thanks to my dirty mind—combined with the fact that I grew up in the Welsh-named "Bala Cynwyd" (Rolling Hills), and I know how (unlike the sexy Greek pantheon) those dreary Welsh gods need spicing up—I call it Mabon'er.
PHOTOS 1 & 2: BIANCA.  PHOTOS 3 & 4: SELFIES
Happy Mabon'er, ya'll!
Even in LA, the nights are getting longer, darker and a bit chillier, making the autumnal equinox a great time for great sex, deep cozy intimacy and/or a whole lot of hot kinky fun with your hot box, your boner… or Mabon'er.


So, cuddle up with someone you love, even if that someone is you.
After all, it's still Self-Love September, so give yourself a hand!
Need some help with that? Call the Therapists Without Borders of the Dr. Susan Block Institute. We're here for you throughout the changing seasons and your evolving desires.
RIP Jessica Jaymes
Despite all of our efforts to liven things up in the Fall and Winter seasons, many living creatures die. With a heavy heart, I take a few moments on this show to say good-bye to Jessica Jaymes who just passed away at the age of 43.
Dazzling inside and out, Jessica was a frequent DrSuzy.Tv guest. First featured back in 2007 on A Midsummer Night's Wet Dream, this schoolteacher-turned-porn-star always stole the show with her beauty, power and sheer sense of sexy fun.
The cause of her death is "unknown," though she suffered from seizures and took various prescription meds. In her last IG message before she passed, she posted she'd been offline because she'd taken a holiday but she hoped everyone was 'having the best sex time of their life.'
RIP Jessica Jaymes. Thanks for all the good vibes and great sex.
It just shows (for the zillionth time) that you never know when death will take you or someone you love. So share the love while you can. Get the most out of life—consensually, of course—because before you can say sayonara, you're going, going, gone…
On that note, we get back to life and living it up on DrSuzy.Tv!
FemCom Cougar Extraordinaire Sally Mullins
Since we moved, we've had just one or two guests at a time on the show, usually a porn star and a comedian. Sex and comedy have gone together since Aristophanes' Lysistrata (at least).
After all, laughter is a mental orgasm, and sex—despite our best efforts to make it "perfect"—is often pretty funny.
Thus, we find an adult performer and a stand-up comic is a terrific combo.
On this show, I have just one guest, and she's both. A comedienne and porn star rolled into one sexy, funny, fabulous package: FemCom Sally Mullins aka porn star Jamie Foster, aka Hello Cougar!
I'm always happy to have a sexy comedienne on the show. Cougar Sally/Jamie certainly negates the old stereotype that funny women aren't sexy.
Actually, it's been refuted many times, including by the Patron Saint of the Little Love Church of the Bonobo Way, Marilyn Monroe, a superb comedienne
Nevertheless, lingering from the old days of Phyllis Diller, Joan Rivers and Roseanne Barr is the old smart-woman-fearing notion that funny girls aren't sexy.

Well, they ARE, as my show assistant Sunshine McWane shows us every Saturday night.
Though Sally is the reigning queen of combining funny with sexy, she does have two names to separate Sally's comedy life from Jamie's porn life.
Nevertheless, the two very often interlap, and both Sally and Jamie are hot cougars.

PHOTOS 1 – 3: BIANCA.  PHOTO 3: CARL RUSSELL
Meow!
Happy Cougar Equinox!    
First, let's define our terms: What's a cougar?

Of course, the standard definition of "cougar" is a large American wildcat.
Like a puma or panther, a cougar is one powerful pussy who could possibly eat you alive, if she's hungry.
Interestingly, a cougar's fur is the same reddish color as Sally's current hair color (she was a blonde on Kink Month III: Night of the Cougar and Cougar Kink).
The other, more contemporary meaning of "cougar," according to our trusty urban dictionary, is "an 'older,' experienced woman who happens to find herself in a sexual relationship (committed or not) with a younger man. She is not necessarily a slut, nor is she desperate. She offers sexual expertise, and yet she is open to new experiences…. She is attractive, confident, and just wants to have fun. She will not attempt to trap her mate into marriage, children or even an exclusive relationship. She is not interested in drama or games, as that would interfere with the pleasure she enjoys."
In Sally's life, it would also interfere with her career. Can you imagine if one of her cubs (sexual slang for the younger men who are drawn to cougars) came into the Comedy Store to heckle her?  Must ask her if that's happened to her next time she's on the show.
Not only does Sally use her cougar dates as material for her comedy; as Jamie, she lives the cougar life to the sexual fullest in porn.
PHOTOS 1-3: BIANCA. PHOTO 4: CARL RUSSELL. PHOTO 5: Selfie

I really appreciate how she merges smart, imaginative, pro-sex, "femcom" feminist comedy with sensuous, authentic cougar love and lust for hot younger men.
Isiah Maxwell
Though she's child-free (like me!), she often plays a MILF, or even a GILF (Hello Grandma!) in her XXX forays.

Her recent and now favorite porn partner is none other than Isiah Maxwell. Our old friend—whom we first knew as Isiah King James IV back in 2011—is now a major porn star. Whatever name he uses, even though he hasn't been back to see us in a couple of years, we are so proud of Isiah!
The Dr. Susan Block Show gets them on the way up… or down.
I kind of hate to identify Isiah in terms of his penis size. He's so much more than his dick; he's smart, sweet, charming, caring, sensuous, respectful, creative, honest, to name a few of his worthy traits. But he also has an 11 ½" dick (see "it" and more on DrSuzy.Tv).
It certainly impressed Jamie.


This kicks off into a conversation about interracial porn, cuckold sex and panties, all popular topics of discussion and roleplay at the Dr. Susan Block Institute. Listen above or watch below for our fascinating sapiosexual conversation.
Our "panty talk" is actually stimulated by a curious news item:
Highly respected Suffolk County District Judge Robert Cicale ("an Italian, of course," sighs fellow Italian Capt'n Max) and married father of three got caught stealing his neighbor's panties directly from her hamper.
Panty Raid!
Police found Cicale in the driveway, clutching a raincoat (such standard pervert wear!), the pockets of which were stuffed with several pairs of panties belonging to the 25-year-old neighbor who used to work as an intern in his office.
Talk about legal briefs…
The jokes are endless, but listen to your Love Doctor, Brothers and Sisters: There's nothing wrong with having a panty fetish. It's perfectly normal to be aroused by panties. After all, it's the article of clothing we wear closest to the genitalia.
There's not even anything in the Bible against liking panties… though the closest thing they had to panties back then were loincloths.
However, the Bible does say, "Thou Shalt Not Steal."


I believe in the benefits of socialism (Bernie-style, not USSR-style). I believe in Panties for All.
But we live in a capitalist world where panties cost money, and those are your neighbor's panties, Judge Cicale, not yours to take, sniff, stuff in your raincoat or wear under your judge's robes (he probably did all of that).
Stealing is wrong, and stealing panties is just as wrong… maybe even more wrong. Not only is it the theft of property that can be pricey, it can make the victim feel pretty violated.
Sally calls him the "Panty Judge."
Taking it to the next level, I call him the Panty Boy Judge, latest poster boy for sad middle-aged men and the deep desperation they often feel for youth.
A smart guy like Cicale knows he could easily get caught. He's thought about it from all the angles. This makes me feel that not only does he have a panty fetish; he's aroused by risk and, though his worst nightmare may have been getting caught with panties in his pockets, it's likely that the fear of that happening also turned him on.
What a story! Does it make you laugh, give you the creeps… or arouse you?
Well, before you steal your neighbor's, co-worker's or sister-in-law's panties—even if you're feeling blinded by the urge to pluck them from her hamper and thrust them in your raincoat—quick, call the Therapists Without Borders of the Dr. Susan Block Institute.
You can "steal" our panties anytime.
We promise we won't feel violated… unless that's part of the roleplay.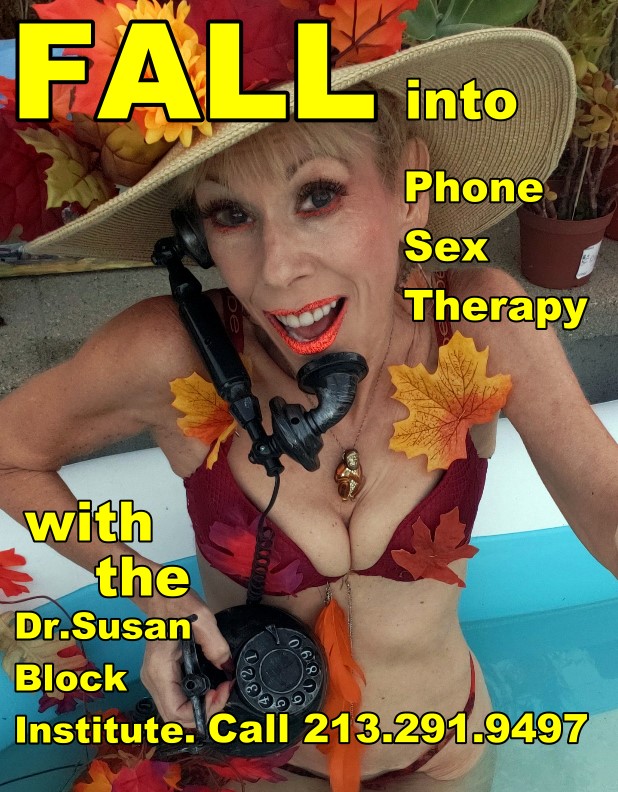 Fall into your fetish with phone sex therapy. It's the perfect time of year to cuddle up to your phone and stay out of trouble!
Quid Pro Quo: Spanking for a Comedy Spot
Sally hosts Wednesday and Friday nights at the world-famous Comedy Store in Hollywood, where Sunshine would love to perform.
I figure Sunshine's too modest to suggest it, so I ask: Why don't you give Sunshine a spot one of those nights?
Why not?
Let's make a deal. Fall equinox is deal-making season, after all. How about a spanking for a spot onstage at the Comedy Store?
Sounds good, and though politically incorrect these days, quite fair.
So, we hustle ourselves over to the tiger-striped (almost cougar) sheepskin, and Sunshine drapes herself across our laps for a good old-fashioned OTK (over-the-knee) spanking.
What a hoot!
She keeps her crimson panties on (eat your heart out, Judge!) for the Facebook Live camera, but that doesn't stop Spankin' Sally from making those cheeks almost as red as her panties.
Bonoboville Communion & More Spanking

Then we turn the Facebook Live cameras to the wall, and Sally opens up her top to reveal her lovely, natural breasts.
PHOTOS 1 & 4: BIANCA.  PHOTOS 2 – 3: CARL RUSSELL
GILF or Goddess, at 51, they're perky as a teen. Guess all that hot cougar sex keeps you young.
When I see a pair of beautiful knockers like that just sitting on the edge of the sheepskin waiting for a role to play, I don't know about you, but I think: Bonoboville Communion.
Sunshine is thinking along the same lines, so we break out the sacred Himalayan pink salt and lick and suck it from Sally's cougar tits like thirsty cubs.
Though Sally was raised by atheists, and she's as straight as porn stars come, she enjoys the girl-girl attention and the salty quasi-religious flavor.
Then it's time for Waterboarding Bonobo-Style with Agwa de Bolivia Herbal Coca Leaf Liqueur.
Sally pours the green elixir down our throats like she's CIA.
Seriously, if our CIA did this kind of waterboarding, they'd get a lot more honest answers and a lot fewer "accidental" deaths.
Next, we switch it up, and Sally does the communing on Sunshine's and my Altars.

Sally licks both of our boobies with panache… for a straight gal.

Whereupon we waterboard her between both of our intertwined legs.
Sally takes her waterboarding like a good P.O.W.
Having survived her Bonoboville Communion as both Communer and Altar Girl, Sally gets lei'ed on DrSuzy.Tv.
#GoBonobos for FemCom Sally Mullins!
Or is she pornstar Jamie Foster in this segment?
Hard to say, but she looks happy and gorgeous and ready for Fall.
The only downside to the Waterboarding is that Sunshine's leg goes numb under my leg and Sally's head.
The show's almost over anyway, but before we go, Sally asks Sunshine to give her a spanking.
If Sally spanking Sunshine is quid pro quo for Sunshine getting a spot onstage at The Comedy Store, then is Sunshine spanking Sally quid pro quo for coming back on DrSuzy.Tv?
All right then, let's make a deal (though, of course, I'd have Sally back on regardless)!
Then again, maybe she just wants to show off that great cougar ass.
Sunshine doesn't shine with the JuxLeather riding crop, at least not on her first try (she does better with it later).

But she aces OTK.  
PHOTOS 1-32: BIANCA.

Sally is a genuine switch; I can't say which she enjoys more: spanking or being spanked.
We enjoy watching her doing both!
Sally Mullins as Elizabeth Warren
We also spank our Trumpenstein voodoo doll and talk a little politics. Sally's dad was a publisher, so she developed a healthy distrust for Drumpf at an early age.
We agree on Bernie as our favorite policy-wise.
But Sally has a damn good reason for hoping that Elizabeth Warren wins: So she can play her in the porn parody!
What will the name be? Sally likes "Whorin' for Warren."
I toss out "Jizz on Liz."
Are you listening, Porn Parody King Axel Braun?
Meanwhile, that's two great women who have pitched me on Warren this week: My old HBO director Shari Cookson at the Emmys party, and now Sally on the show.
I'd still vote for Bernie in the primary, but I'm happy to #goBonobos for Liz if she becomes the Anointed One.
Truth is, I'll #goBonobos for anyone against tRump, even bumbling Joe Biden.
Naked Hula-Hooping

Just before the cameras stop rolling, I hand Sally a hula hoop.
She strips down to nothing but her high heels and rocks that thing.
Then she rocks two!
Shaved vulva and not a bit of cellulite, her body looks superb for any age.
Ride Sally, Ride!
Inspired, I do a bit of hooping myself.
It's a bit of a challenge in skyscraper heels.
At least, my orange red-bottoms match the hula hoop.
And it feels like an Equinox thing to do.
After all, basic hooping (which is all I can manage) goes around and around the equator of your body.
Needless to say, it's centering!
Though there's nothing more centering than cuddling up with my Captain after the show.
He may be a bit older than me chronologically, but he'll always be this cougar's favorite cub.
© September 22, 2019. Susan Block, Ph.D., a.k.a. "Dr. Suzy," is a world renowned LA sex therapist, author of The Bonobo Way: The Evolution of Peace through Pleasure and horny housewife, occasionally seen on HBO and other channels. For speaking engagements, call 310-568-0066.