It's The SUZYs: Announcing the 7th Annual DrSusanBlock.Tv Awards for 2018!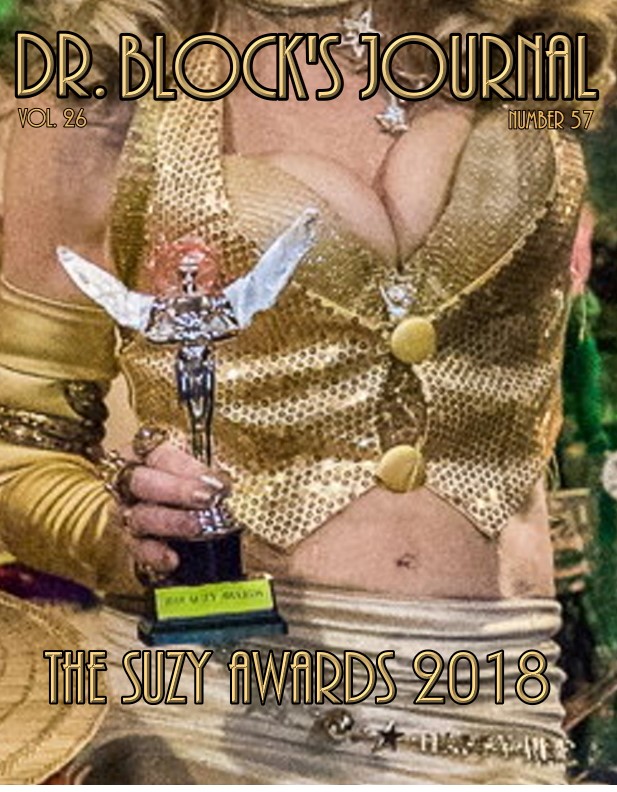 Length 01:52:51 Date: Dec. 29th, 2018
Sandwiched between our memories of 2018 and our fantasies of 2019, in our final DrSuzy.Tv broadcast of 2018, from the Womb Room sanctuary deep within the Little Love Church of the Bonobo Way in Bonoboville, we present the 7th Annual SUZY Awards for 2018.
Honoring excellence in broadcast artistry and exhibitionism, the DrSusanBlock.Tv Awards, a.k.a., "The SUZYS," recognize erotic performance, sexual intelligence and Weapons of Mass Seduction, celebrating The Bonobo Way of peace through pleasure in all kinds of weather and paying tribute, with love, humor and deep respect, to those who work and play in the fields of peace and sexuality.
Yes indeed, Brothers and Sisters, Lovers and Sinners, well before XBIZ, the AVNs, the TEAs, the Oscars, the Grammies, the Emmys, the Webbys, the VMAs, the SAGs and the Golden Globes launch their awards into the starry skies of the global village, "The Greatest Sexuality Show on Earth" is here to give you the Good News of the best of 2018 with The SUZYs!
Our goal, as always (besides having a cum-ton of fun), is to advance the cause of sex education and research, inspire better erotic entertainment with a more sex-positive and sapiosexually stimulating aesthetic, save the real bonobos from extinction and support a bonoboësque ethos in the world.
Making Love to Our SUZY Award – Photos: Onyx Devall
Speaking of "ethos," our Bonoboville Ethics Committee has, since our inception, stipulated that DrSuzy.Tv staff members, no matter how deserving, are ineligible to receive SUZY awards.
ANNOUNCING the SUZYS 2018 PHOTOS: JUX LII
However, because we were raised in the United States of Everybody-Gets-an-Award, we do give a special DrSuzy.Tv "staff award" to our beloved staff, a kind of "thank you for your service" award.
Otherwise, all award winners are selected from guest or "product" appearances on the 42 live broadcasts ofThe Dr. Susan Block Show in 2018. Not all awards are "good," as you'll see, especially towards the end of the "Politics & Sex" category; there are some booby prizes for the deserving.
So, without further ado, here it is, another sparkling listicle of some of the world's greatest sexperts, sexpots, artists, exhibitionists, activists, visionaries, revolutionaries, hot bonoboesque babes and dirty rotten bastards who have appeared, been placed, praised or parodied on The Dr. Susan Block Show throughout this amazing year.
And the winners are….
#GoBonobos
Porn for the People!
Kink, Fetish & BDSM
Erotic Arts & Media
Sexy Music
Hottest Stuff
Sex & Politics
See 2017's Winners.
See 2016's Winners.
See 2015's Winners.
See 2014's winners.
See 2013's Winners.
See 2012's Winners.
Big Congrats to the winners and hugs to the losers (though once again, Luzer is a winner). There's lots of time to win for 2019!
Actually, The 2018 SUZYs is the awards show that almost wasn't. Less than a week ago, I was being hoisted out of Bonoboville on a stretcher by a couple of fine, strapping young paramedics. Once again, I was teetering on the edge of life and death, unable to breathe, my "sensitive" sinuses and lungs essentially choking on climate change here in America's most polluted city.  
GasMask Chic
One of the many insidious "side effects" of all our virtually unbridled capitalism, "freed" to do even greater damage by tRump and his ecocidal appointees, is an uptick in human (and probably other animal) respiratory illnesses.
Development assessors rarely take into consideration that the very air we inhale is becoming more poisonous, for some of us more than others, though these rising levels of toxicity can't be "good" for anybody.
On the other hand, I am deeply grateful for modern human technology since it—along with Capt'n Max's love—is what saved my life, once again. Thank goddess, they didn't have to put me on one of those nightmare breathing tubes that goes down like you're being viciously throat-raped by a sadistic AI robot. Instead, they stuffed my face into a strappy black mask that forced gales of oxygen up my nose. It hurt a little, but it was a good hurt — it felt like a necessary hurt and it really resurrected me.
Also the mask reminded me of one of those cool fetish gasmask like GasMaskGirl wears. So when I give GasMaskGirl the SUZY award for "Most Timely Fetish," I really mean it.
With the wildfires, flu season, active construction and all the inherent issues of the Great Dying, more and more of us are wearing masks for one reason or another. Might as well enjoy the eroticism of it.
Big thanks to those strapping first responders, as well as the wonderful doctors and nurses at the first hospital they took me to (which, like Trump giving away the location of the Navy Seals, I gave away on the show, but I'm not going to do again here) and the good folks at Kaiser Permanente. You all win SUZYs.
Which brings me back to the awards, and since it's almost New Year's, I'm wearing the traditional cardboard New Year's hat, except on top of one of my other "Mistress of the Airwaves" hats. Two-hat chic.  As is traditional, we don't invite any of the winners, or anyone at all to the award show itself. In fact, we discourage our Speakeasy members from attending this one between the holidays evening, though all are invited to tune in live as I announce the winners, with the bubbly, popper-popping help of my adorable assistant Blossom Green.
Two new Speakeasy members, Marvin from Santa Clarita and Mohammad from Tehran, show up to enjoy the proceedings from the bar. Later, when I'm wondering why Marvin is so sanguine about the ever-worsening California wildfires, I ask him what kind of work he does. "I install sprinkler systems," he replies. No wonder he doesn't mind the fires.
Mohammad, who works in "computers" is a real jet-setter of our times, traveling back and forth fairly often between the U.S. where he works and his native country of Iran.
I'm sure that's challenging with Trump's Muslim ban and disturbing tendency to demonize Iran, but Mohammad just shrugs and says it's not so bad.
Though he does appreciate some of the boobie prizes I give Trump Crime Family, especially the "Worst Cuckold" award for Paul "The Oligarch-Fellator" Manafort.
The Clemmy Show
In between awards, we celebrate our favorite Cockatoo's birthday yet again.
She's Marlena Dietrich-sexy in her bartender's white shirt, vest and dandy grey tweed frock coat, blowing out her candles and reveling in her Clemmy cake, even though the day before she'd confessed to a bit of that age-old childhood birthday trauma: having your birthday fall between the holidays "sucks."
She certainly makes up for lost birthdays, sucking the cake off my finger, as well as Blossom's and—with especially sensuous panache—her girlfriend Amy's sweet saucy digit.
Why not a bit of splosh for the Down Under designer of Dr. Susan Block's Speakeasy Journal, first edition: SPLOSH 'n' ART.



When she's not bartending, gallivanting or canoodling with Amy, she's hard at work designing our next issue, the title of which is SPANK 'n' ART, so of course, after the cake-sploshing, we have to give our beloved, naughty girl a good hard-as-a-magazine over-the-knee (OTK) birthday spanking.
Bottoms up for the Birthday Gal
Whereupon she throws off her frock coat and dives over all six of our wiggling, giggling knees. Ahhh… Birthdays in Bonoboville. Clemmy being ageless, I let her pick the number of spanks she gets, and she chooses 25, and that's what she gets, with a few more to grow on, because I said so.
I prefer to spank a happy nude rear—it's so much more sensuous, not to mention easier on the hand—but our darling neo-Victorian Clemmy insists on keeping her very thick jeans on, so I forego the hand to give her a good solid book-spanking with an unfinished proof copy of our soon-to-be-published SPANK magazine, with Amy, looming in a big black hat, holding her and her mic for dear life up front and Blossom giggling at her feet.
Why not spank our Speakeasy Journal designer's saucy birthday bottom with the proof of the new magazine, since she really does have to finish it soon, hopefully in time for the holiday spankings of Lupercalia.   Plus, the little post-it notes flying out from the pages as I whack her tough behind look like New Year's confetti, office-style.


I also give Blossom a light New Year's spank on her not-so-nude but still very nice and very sparkly rear with "Most Dazzling Domme" " Goddess Phoenix's also award-winning fiber-optic whip.
Though it's just us locals in the Womb Room, plus Marvin and Mohammad—what a pair!—this show features plenty of action in the form of clips we play of several of the award-winning erotic performances (all of which you can watch à la carte on Clip-O-Rama). Kudos to Gideon for editing the clips, and big thanks to Harry Sapien for organizing amazing images of the winners, making the SUZY Awards 2018 a real show of shows.
No, we're not sponsored by the NRA (we're for cocks, not glocks), though to celebrate each award's announcement, Blossom detonates a popper that sounds more like a gunshot than a party accessory, or maybe I'm just "sensitive."
The Pro-Sex Anti-Award Awards
In a way, the SUZYs are the pro-sex, anti-award awards.

While some of our categories are serious, many are parodies, and there are the booby prizes. It's up to you to figure out which is which. As always, we are safety and ecology-minded, carefully placing a Glyde America Vegan Condom on the golden head of our SUZY statuette, crafted by Clemmy in the Bonoboville arts & crafts department from a "World's Best Person" award Max got me at the Hilton during DomCon. At optimal balance, it looks like a latex halo or one of my hats, though it has a tendency to fall off, like too-big condoms do, with the slightest jiggle. Also, this year's halo-condom is cherry red, so it has a bit of a demonic look.
Most of our winners get digital awards to show off in all their social media. The ones that visit us again get "I Won a SUZY" buttons, and an occasional few do the "paperwork" to get an actual inscribed statuette, with or without the condom. Seriously, the award can and has been used as a dildo by some of the winners, and we do not find that the least bit dishonorable. Just don't let the condom fall off, especially if you're sharing.
After a year that was awesome and awful, terrific and terrible—and Trumpible, with much of the terror Trumped up from the top, trickling down to We the People, whether you loved or hated it—this year is in the rear. 
Thus, with a fond farewell to 2018's 42 great shows, a Merry New Year,a very Happy Nude Rear to the coming new year, and a bellyful of Jux Lii's deliciously potent Cannabelly cookies, off we disperse, like confetti or human post-its, into the chilly New Year's night.
Slipping into the theater under the covers withmy Captain, wegrab, spank and squeeze each other's tired but very Happy Nude Rears, as well as various other aforementioned shenanigans, generating almost shockingly huge, organic, non-fossil-fuel burning award-winning grand-finale climax(es).
Not bad for a couple of old RƎVO˩utionaries steering the Good Ship Bonoboville through the stormy seas of the Trumpocalypse, one of whom couldn't breathe the other day. Praise be to the power and glory of sex and the tantric 4-7-8 Breath of Power. Amen and awomen.  
Meanwhile, congrats to the winners! We obviously love you (unless you got a booby prize). Happy Nude Rear! Hope to see you back on the show in 2019! With 2019 uncertain as the weather, join us on the path of peace through pleasure. Share your views or show off your talents, be a guest on the show. Join the sapiosexual conversation, the inter-arts integration, the pansensual exploration and the erotic resistance on the Greatest Sexuality Show on Earth. Maybe you'll win an award.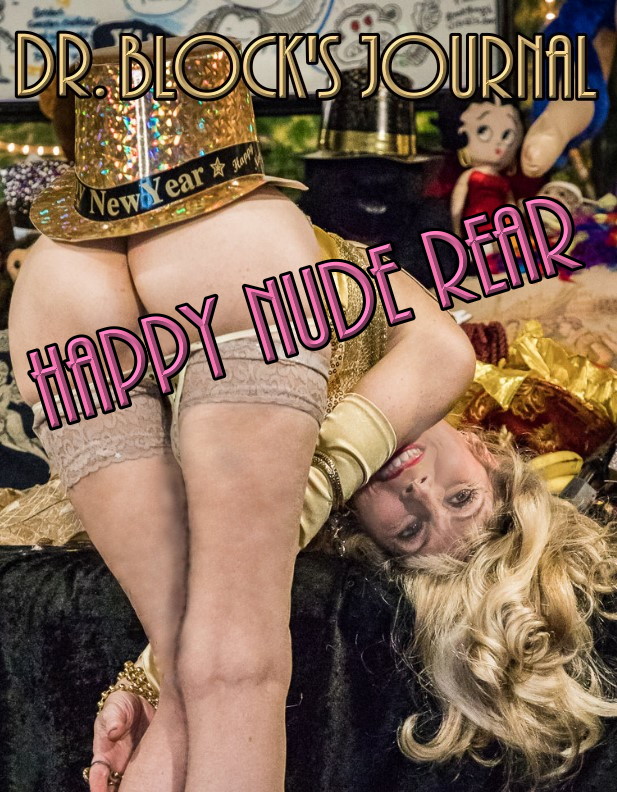 © Dec. 30, 2018. Susan Block, Ph.D., a.k.a. "Dr. Suzy," is a world renowned LA sex therapist, author of The Bonobo Way: The Evolution of Peace through Pleasure and horny housewife, occasionally seen on HBO and other channels. For speaking engagements, call 310-568-0066.
READ My New Year's Resolution: #GoBonobos in 2019 in the blog or in COUNTERPUNCH