"WiLD LiFE LA" this Saturday in Bonoboville + Explore Your Wild Side by Phone or Webcam Now…
This Saturday, January 12th on The Dr. Susan Block Show
WiLD LiFE LA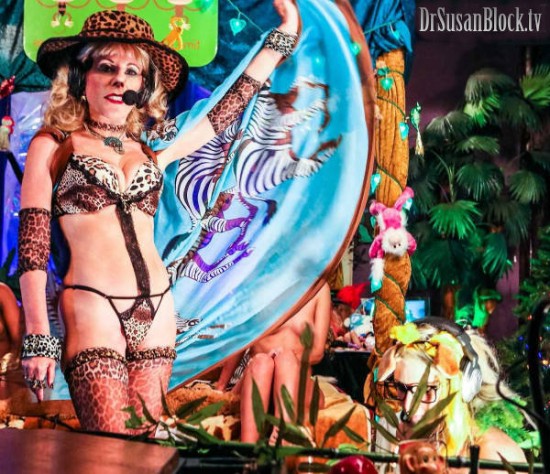 Your WiLD LiFE LA Hostess Dr. Susan Block. Photo: JuxLii
RSVP Here or Call 213-670-0066
Doors Open @ 9:30pm
Show Starts @ 10:30pm
After-Party @ Midnite!
This Saturday's live broadcast of The Dr. Susan Block Show  will take you into the concrete jungle, going deep inside the last known sanctuary for wildlife in LA.  Joining international sexologist Dr. Susan Block in her Womb Room broadcast studios will be our DrSusanBlock.tv Award winner for "Most Fanatic Foot Fetishist" Kayla Jane Danger, MyDollParts model & DrSuzy.tv Speakeasy Star Jenna J. Ross,  DrSusanBlock.tv Award winner for "Most Statuesque" Morgan Bailey, international award-winning filmmaker and producer of "Naked" & "Champions of the Wild" Christian Bruyère, plus the return of actor/coach John Barrymore of the  distinguished and wild Barrymore acting dynasty.
Sex toys provided by Sybian, Divine Interventions, CalExotics, ScreamingO, Stockroom, JuxLeather and Condomania condoms. The Dr. Susan Block Show beverages of choice are Hennesey, Absinthe and Agwa di Bolivia Coca Leaf Liqueur, among the many fine libations and gourmet hors d'oeuvres featured at the always-popular Speakeasy Open Bar and Aphrodisiac Buffet. Proceeds from donations go to help save the highly endangered "make love not war" bonobos from extinction in Congo and to promote the Bonobo Way of Peace through Pleasure around the world.
WiLD LiFE LA will air live January 12, 2013, 10:30pm-Midnight PST on The Dr. Susan Block Show. Listen FREE on RadioSUZY1 or Watch the LIVE BROADCAST on DrSuzy.TV Call-In Free: 1-866-289-7068 Read Our Rave REVIEWS!
The core inspiration for the erotic, peaceful, loving life we espouse and try to live here in BonoboVille comes from the actual "Make Love Not War" bonobo chimps. GO

BONOBO

starts with bonobo education courtesy of BCI UK, then swings into a peacefully riotous BonoboVille sexathon of bananas, spankings, stripteases, oral sex, Sybian rides, simian hoots, hollers & hoka-hoka. Featuring Natasha & Natalia Star, Kelsey Education, Lylith Lavey & more. Watch it now on DrSuzy.tv ! Banner Pic: JuxLii

For Eros Day , Valentine's Day, Lupercalia & Purim….
Give the Gift of Pleasure to Someone You Love, Even If That Someone is You!

"Dr Susan Block's 10 Commandments of Pleasure are the best to come around in the past 2000 years. Bravo!"
Nina Hartley, adult film star & sex educator

"Thank you, Dr Suzy, for showing me that sex education can be sexy."
Sheila Nevins, Executive VP, HBO

"Any man who follows Dr. Suzy's 10 Commandments of Pleasure will have women eating out of his hand. Any woman will have men groveling at her feet."
Dr. Tracy Cabot, Best-Selling Author
| | | |
| --- | --- | --- |
| Recent Bloggamies, Shows, Free Pix Pages | | |
Make Like Bonobos, Not Baboons! Make Love, Not War.Make Love to Someone You Love Tonight, Even If That Someone Is You.
I LOVE YOU
Peace on Earth ♥ Pleasure for All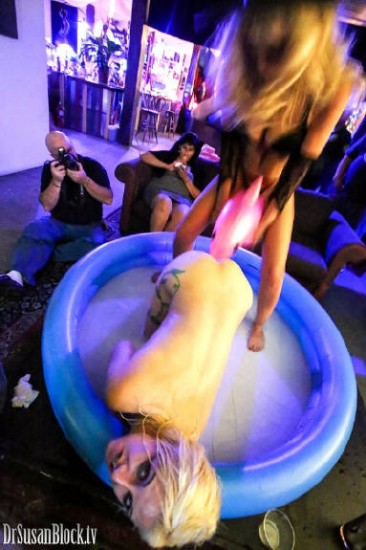 AMEN ♥ AWOMEN
x S


DrSuzy