SUZY Awards, Ecosexuality Keynote, #GoBonobos in 2016, Sex-Fun-Beer this Saturday on DrSuzy.Tv & Sex Therapy 24/7
Read it, share it, like it, #GoBonobos for it.


---

Therapists without Borders | Radio without Boundaries
We can help. Call 213.291.9497. Or just watch this.


---

Dr. Suzy's Clip-O-Rama XXX Theater


Save Room for Sex: Watch DrSuzy.Tv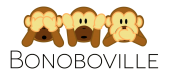 Social Media Grown Up
From pleasure parties and film shoots to book releases and art exhibitions, you can book Villa Bonobo, in West Los Angeles, for your next event.
Features includes recording studio, gallery, and private entry for you and your guests, all in a retro bohemian setting.
Call 310-568-0066 to book. Celebrate your pleasure.

---

Make 2016 your year to #GoBonobos!
Give The Bonobo Way, the book that boldly asks: What do these great apes know about sex–and the rest of life–that we don't?
Here's what we know about bonobos:
✿ They have a lot of sex.
✿ They don't kill each other.
✿ They empower the females.
✿They make peace through pleasure.
And we thought humans were the smartest apes!
Give someone special The Bonobo Way (even if that someone is you)! A portion of all proceeds go to help save the wild bonobos from extinction. Already given it to everyone you know? Make a donation to bonobo conservation.

Need to talk? Why wait? Call now | 213.291.9497