Sex & "The Republican Brain" This Saturday + Phone Sex Therapy for Any Brain 24/7
AUGUST 24TH, 2012
spacespacespace
The Dr Susan Block Institute Newsletter

This Saturday, August 25th on The Dr. Susan Block Show
Sex & "The Republican Brain"
RSVP Here or Call 213.670.0066
Doors Open @ 9:30pm
Show Starts @ 10:30pm
After-Party @ Midnite!
Facing a major U.S. election, with one Republican candidate talking about "legitimate rape" as others deny the science of evolution and propose policies guaranteed to kill millions of jobs, grant "personhood" to embryos and wage a new War on Porn and other Internet freedoms, it's time for The Dr. Susan Block Show to put on our rubber gloves and dissect "The Republican Brain." What makes it tick, run, screw, rush to war and sometimes win elections? This Saturday's live broadcast will address these timely questions in an interview with Chris Mooney, best-selling author of The Republican Brain: The Science of Why They Deny Science—and Reality. Armed with my new Weapon of Mass Seduction, an honorary doctorate from the Institute for the Advanced Study of Human Sexuality, will also explore Sex & the Republican Brain: Why do most conservatives and Tea Partiers support more sexual constraints on society than most liberals? What fetishes or erotic tendencies are more common to Republicans and why? How do politics, love and sex connect or disconnect in the human brain—Republican, Democratic, Independent or otherwise? Joining me in-studio will be two of the world's hottest porn starlets, Pressely Carter and Elaina Raye, punk rock princess Josi Kat, Fetish Film Festival Director Michael Simmons & the Nylon Girls. Sybian rides & more wild post-politix FUN sure to ensue!

Can't Join Us In the Flesh? Watch Us Live on DrSuzy.tv
Or just Listen FREE on RadioSUZY1
Call In Live 10:30p-Midnite PT: 1.866.289.7068
Not Sure About All This? Read Our Rave REVIEWS
Now Playing on DrSuzy.TV: Bastille Day in BonoboVille with a Real Prinzzess!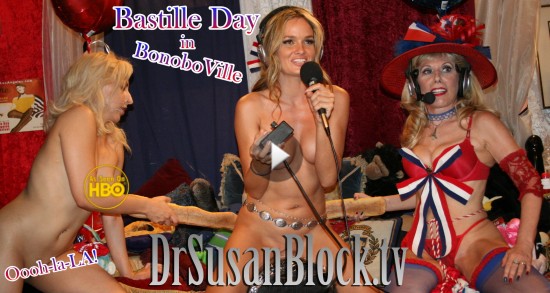 Watch it Now on DrSuzy.tv!


Save the Bonobos
| | |
| --- | --- |
| | A portion of all proceeds from all Dr. Susan Block Institute products, including sex therapy services and drsuzy.tv, goes to help save the highly endangered "make love not war chimpanzees from extinction, supporting our "adopted" bonobos at Lola ya Bonobo and other bonobo conservation programs in Congo, and to promote the Bonobo Way of peace through pleasure around the world. |
| | |
| --- | --- |
| Recent Bloggamies, Shows & Free Pix Pages | |
Make Like Bonobos, Not Baboons! Make Love, Not War. Make Love to Someone You Love Tonight, Even If That Someone Is You.
I LOVE YOU
Peace on Earth ~ Pleasure for All
AMEN * AWOMEN
x S
DrSuzy