Playboy, Emmys & a 9/11 Mission of Peace through Pleasure for The Bonobo Way!
Pix from Playboy Radio & Our Emmys Soiree!
Just before my Playboy interview, who do I see but hot mini-dynamo, Miyoko, another Playboy radio host who I haven't seen since she attended my lecture at Sex Week at Yale 2006—with her mom! Then, while mom babysat the kids, Miyoko & her hubby Jeff joined Max & me for dinner at Quattro's.  Miyoko was also a great guest on my XXXmas Saturnalia show, promoting "The Practical Striptease." Now she wants to read & talk about The Bonobo Way on her show!


---
Good Vibrations Founder Joani Blank in da House!


Haven't seen Joani Blank since we had lunch with Nina Hartley & Carol Queen at the 2011 SSSS conference. I first met Joani back in 1994 when I interviewed her on my show about her company that was already becoming a leading force in the sex-positive movement in San Francisco & the world: Good Vibrations. And she hasn't changed since! Guess all those good vibrations keep you young….  Photo: Kenny Bono


---

Therapists without Boarders | Radio without Boundaries
The best thing about inching down the freeway at rush hour is getting a great view of the sun setting…. Wait, what's that ape-like cumulous cloud formation in the center?


---
Emmys Party with Capt'n Max!

I know we look like tourists here at the 67th Annual Emmy Awards Reception, but I've been a TV Academy member since 1998. Photo by Tonya Wise (yes, we pasted Emmy in there just to remind us of where we were, since it was at Mr. C's this time instead of the old Academy with all the cool statues around :).


---
It's always wonderful to reconnect with our amazing Emmy-winning HBO show producer, Shari Cookson, who happens to be on the TV Academy's illustrious Board of Governors, + our fantastic HBO editor Charlton MacMillan–Shari's hubby since 1990. And we think we're long-term!

---
With "Cousin" Mitchell Block

No, Mitchell Block is not my blood cousin, but he's another Emmy-winning filmmaker and he interviewed Claudine André for his film about heroic humans who save endangered species. Note: I may look tired, but my Abby Martin art bag is still stylin'! Photo: Capt'n Max


---
Block Party at the Emmys

So my non-cousin Mitchell Block brought another non-cousin, Vanessa Block, who is not only a Block (and Jewish, kine-hera); she went to Yale and the Congo, and she's a knockout, from her pretty pedicured toes to her very unJewish nose. She's also a lot of fun. Photo: Capt'n Max: 

---
No, it wasn't the plush, comfy, old Academy on Lankershim with all its impressive oversized statuettes & other reassuring symbols of Old Hollywood.  The only visual nod to the Emmys at Mr. C's Starlight room was this paper backdrop by the men's room. Abby Martin art bag still fresh though! Photo: Capt'n Max: 


---
It felt right on 9/11 to hang out with U.S. Presidential lookalike Martin Varona who, especially with how blurry this photo is, looks sooo much like you-know-who.  Photo: Capt'n Max


---
Eamesing Out at Mr. C

Though the Emmys Party was standing room only (mainly because there were no chairs), Mr. C's bar downstairs has awesome Eames knock-off chairs, nicely priced drinks & delectable tuna tartare. Photo: Capt'n Max


---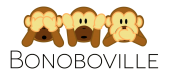 Make Like Bonobos, Not Baboons!