Orgasmic Freedom Friday
"Freedom lies in being bold."
Robert Frost
It's the 232nd anniversary of the American Revolution: Time to venerate the Founding Papas of our Nation, like George Washington who grew hemp on his plantation, and Thomas Jefferson who had sex with his slave, sexy Sally Heming, on his plantation, and Ben Franklin who didn't have a plantation, but enjoyed those saucy Paris orgies to ease the stress of his intensive diplomatic efforts to gain French support for our new revolution, the Revolution we now celebrate with an all-American fireworking, hot-dogging, beer-busted, sexy summer-hot orgasmic affirmation of freedom, on and around the 4th of July.
When I was a kid, the sexiest holiday of the year was the 4th of July, smack in the center of a Philadelphia summer, hot and steamy enough to go out at night in nothing but shorts and somewhat see-through shirts. We'd bike to the playground and spread our blankets on the firefly-infested grass, then lay on our backs, looking up at the stars, dizzy and drunk on the enormity of it all. And some of us (the science nerds) knew that those lights in the endless sky above us were from fires burning long before America even existed. The rest of us liberal artsy types just hung out or made out on the blankets and waited for the pseudo starbursts to start – promethean gifts to heavenly bodies – streaking the night sky with blasts of red, blue, silver bullets bursting in our ears, shining in our eyes, climaxing in our hearts. The best part is the way they explode and then fall so exquisitely, like the end of an ejaculation, showering our spirits in celebration.
Celebration of what? Not of culture; American culture is just a mishmash of other cultures. Certainly not of government; most of us tend to have pretty mixed-to-negative feelings about government. What we celebrate is an idea, simple and yet kind of incredible, the idea of freedom, the greatest aphrodisiac of all. Licking Dana DeArmonds juicy cherries on the 4th of July.
Let freedom reign, brothers and sisters, lovers and sinners! This beautiful word has been used and abused a lot lately, from those boorishly francophobic "Freedom Fries" to the absurdly named and ill-conceived "Operation Iraqi Freedom." And yet, "freedom" retains its inspirational meaning for most of us freedom-lovers. More than just about anything, people want to feel free. Feeling free is almost as important as feeling love, sometimes more important; lots of us give up love to be free.
"Under a government which imprisons any unjustly, the true place for a just man is also a prison."
Henry David Thoreau

We seek, we cherish, we fight for our freedom, and yet…it's sooo slippery. Think about it: How free are you? How free do you feel? Are you freer now than you used to be, or less free? Are you imprisoned by your job, your school, your marriage, your parents, your children, your fears, your neighbors, your president? Does the war imprison you? How about the terror? Is your religion a prison? Maybe you or someone you love is in a real live prison, with bars, thick glass, heavy shackles, no pencils (pencils can be used as weapons), and buses without windows, in one of America's biggest growth industries: the U.S. Prison System. With all our extravagant talk of freedom, we've got over two million people imprisoned in this country, a great many of whom are totally innocent. It's a human tragedy of Kafkaesque absurdity and mounting proportions. But remember: they can kidnap your body, but they can never imprison your soul. The higher the prison walls, the higher the human spirit can fly.
"Everything can be taken from a man but … the last of the human freedoms – to choose one's attitude in any given set of circumstances, to choose one's own way."
Victor Frankl
Choose joy, and no one can imprison you. Choose to reach out and give love to even your persecutors, and you will always be free.
Then again, maybe you imprison yourself. Do you feel imprisoned by your body? Your worries? Your guilty conscience? Your upbringing? Your expectations? Your emo-ness? Do you expect someday someone will come along and give you your freedom on a silver platter? Are you waiting for your big break before you bust out of your self-imposed prison? Or maybe a big bomb? Maybe somebody will bomb you free, like George Bush tried to bomb Iraqis into freedom. Liberate your soul from your bomb-pulverized body. The sign over Auschwitz proclaimed "Work sets you free." Sometimes, freedom's just another word for dead.
"Freedom is what you do with what's been done to you."
Jean-Paul Sartre
The other side of the coin of freedom is restraint. Which isn't so bad, if it's consensual and you enjoy it. In fact, it can be really hot. Yes, freedom is the greatest aphrodisiac. But restraint is a close second. And there are times, when it's even better. There are different kinds of restraint, control, bondage, or as they say en francais, "ligottage," the gentle art of tying up your sex partner, with anything from handcuffs to putting a hood over your head to the invisible shackles of your mind over your partner's matter, the purpose being to enhance excitement, not to overcome reluctance. Consensuality is the key to this delicate erotic art, the sensual science of restraint.
Without consensuality, well, then it's called torture, and there you have it: Operation Iraqi Freedom, Abu Ghraib and the U.S. Prison System. Freedom's just another word for nothing left to lose. Have we lost it, here in Bush's America's, on our 232nd 4th of July, with those two million + human beings trapped behind bars, without freedom in our Land of the Free? Or do we have another chance, with a shiny new President, a chance to hope, a chance to redeem our freedom dream?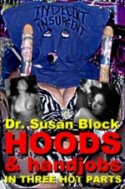 Well, whatever happens with politics, we've always got fireworks. And all of us here at the Dr. Susan Block Institute, the Speakeasy and BonoboWay want to wish you a most awesome firecrackin' 4th (we'll be watching YOU from our roof). But don't be popping off those amateur firecrackers now; or you could be popping off some fingers. And how you gonna finger anybody with no fingers?
Or you could just keep your fingers safe for future lovers, cuddle up to your keyboard and enjoy "Orgasmic Freedom on the 4th of July" with "100% fuckable" brunette bombshell Dana DeArmond on RadioSuzy1TV.

At the very least, give yourself or someone you love an explosive, firecracking, freeing orgasm, with Pocket Rockets Red Glare, Hitachi Magic Wands Bursting in Air, or just your own sweet sensitive fingers…
Happy B-Day, USA!