Happy Nude Rear! DrSusanBlock.TV Awards This Saturday & HELP on the Phone Right Now!
This Saturday, December 29th on The Dr. Susan Block Show


The DrSusanBlock.TV Awards 2012!

Honoring Excellence in Broadcast Artistry and Exhibitionism
This Saturday's live broadcast of The Dr. Susan Block Show will reflect upon this extraordinary year's journey down the path of peace-through-pleasure and honor those that made it orgasmic! Join international sexologist Dr. Susan Block, Capt'n Max, Tasia Sutor, Master Liam and other member of the DrSusanBlock.tv staff as we remember 2012 and bestow awards upon our most memorable guests for "Most Sex Revolutionary Author," "Most Intelligent-Sounding Porn Star," "Sexiest Mainstream Performer," "Best Female Ejaculator," "Sexiest Poet," "Best Spanking,"  "Best-Dressed Guest," "Best Boob Job," "Scariest Dominant," "Cutest Sub," "Sexiest Promoter," "Most Erotic Artist," "Horniest Comedian," "Wildest Committed Couple," "Most Arousing Writer," "Most Enthusiastic First Timer," "Most Orgasmic Sybian Rider," "Most Fanatic Foot Fetishist," "Most Mesmerizing Pole Dancer," "Best Exhibitionist," "Most Blasphemous," "Most Bonobo," "Most Intoxicated" and more.
Sex toys provided by Sybian, Divine Interventions, CalExotics, ScreamingO, Stockroom, JuxLeather and Condomania condoms. The Dr. Susan Block Show beverages of choice are Absinthe and Agwa di Bolivia Coca Leaf Liqueur, among the many fine libations and gourmet hors d'oeuvres featured at the always-popular Speakeasy Open Bar and Aphrodisiac Buffet. Proceeds from donations go to help save the highly endangered "make love not war" bonobos from extinction in Congo and to promote the Bonobo Way of Peace through Pleasure around the world.
The DrSusanBlock.tv Awards will air live December 29th, 2012, 10:30pm-Midnight PST on The Dr. Susan Block Show. Listen FREE on RadioSUZY1 or Watch the LIVE BROADCAST on DrSuzy.TV Call-In Free: 1-866-289-7068 Read Our Rave REVIEWS!
Now on

DrSuzy.tv

:
"Beauties & The BAUTISTA" (video & X pix!)
| | | |
| --- | --- | --- |
| | | It's a tag team smack-down in the Womb Room ring, full of boob-grappling, stripper pole sliding, lunchbox munching and blow job competitions + that intriguingly raunchy, face-to-crotch, upside-down, pro-wrestling maneuver known as the Bautista Bomb. In the midst of a bevy of wild XXX beauties, including Angela Sommers, Destiny Dixon & Samantha Saint, is the PG Animal, Dave Bautista, the longest running champion of the WWE, wrestling with his sexual desire.  Unleash Your Beast (in a Bonobo Way)! Watch it now and check out all the amazing pix on DrSuzy.tv ! Banner Pic: JuxLii |

For Eros Day or Valentine's Day….
Give the Gift of Pleasure to Someone You Love, Even If That Someone is You!

"Dr Susan Block's 10 Commandments of Pleasure are the best to come around in the past 2000 years. Bravo!"
Nina Hartley, adult film star & sex educator

"Thank you, Dr Suzy, for showing me that sex education can be sexy."
Sheila Nevins, Executive VP, HBO

"Any man who follows Dr. Suzy's 10 Commandments of Pleasure will have women eating out of his hand. Any woman will have men groveling at her feet."
Dr. Tracy Cabot, Best-Selling Author
| | | |
| --- | --- | --- |
| Recent Bloggamies, Shows, Free Pix Pages | | |
Make Like Bonobos, Not Baboons! Make Love, Not War.
Make Love to Someone You Love Tonight, Even If That Someone Is You.
I LOVE YOU
Happy New Year ♥ Peace on Earth ♥ Pleasure for All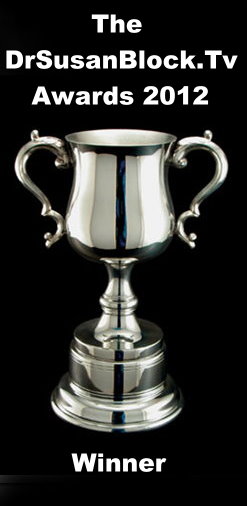 AMEN ♥ AWOMEN


x S




DrSuzy