Happy 4th of July!
It's the 230th anniversary of the American Revolution, the eve of the 4th of July: Time to venerate the Founding Daddios of our Nation, like George Washington who grew hemp on his plantation, and Thomas Jefferson who had sex with his slave, sexy Sally Heming, on his plantation, and Ben Franklin who didn't have a plantation, but enjoyed those Paris orgies in between diplomatic efforts to gain French support for our new revolution, the Revolution we now celebrate with an all-American fireworking, hot-dogging, beer-busted, sexy summer-hot orgasmic affirmation of freedom.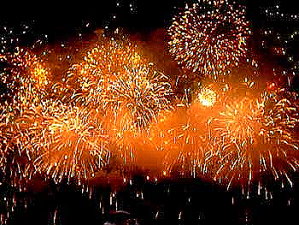 When I was a kid, the sexiest holiday of the year was the 4th of July, smack in the center of a Philly summer, hot and steamy enough to go out at night in shorts and thin cotton shirts. We'd all go out to the playground and spread our blankets on the ground, then lay on our backs, looking up at the stars, dizzy and drunk on the enormity of it all. And some of us (the science nerds) knew that those lights in the endless sky above us were from fires burning long before America even existed. The rest of us liberal arts types just hung out or made out on the blankets and waited for the pseudo starbursts to start – promethean gifts to heavenly bodies – streaking the night sky with blasts of red, blue, silver bullets bursting in our ears, shining in our eyes, orgasming in our hearts, then falling so exquisitely, so deliciously, like the end of an ejaculation, showering our spirits in celebration. Celebration of what? Not of culture; American culture is just a mishmash of other cultures. Not of government; most of us tend to have pretty mixed feelings about government. But celebration of an idea, simple and yet incredible, the idea of freedom, the greatest aphrodisiac of all.
Let freedom reign, brothers and sisters! More than just about anything, people want to feel free. Feeling free is almost as important as feeling love, sometimes more important; lots of us give up love to be free. We seek, we cherish, we fight for our freedom, and yet…it's sooo slippery… I mean, how free are you? Are you freer now than you used to be, or less free? What imprisons you? Your job? Your school? Your marriage? Your parents? Your children? Your fears? Your neighbors? Your president? Does the War imprison you? If you're in the reserve, I bet it does. How about the Terror? Does the Patriot Act imprison you? Is your religion a prison? Do your aspirations for political office imprison you? Maybe your body imprisons you. Your weight? Your age? Your guilty conscience? Your expectations? Do you expect someday someone will come along and give you your freedom? Like on a silver platter? Like that big break you've been waiting for? Or maybe like a bomb? Maybe somebody will bomb you free! Liberate your soul from your bomb-pulverized body; that's Bush-style freedom for the Iraqis. Yes indeed. And the sign over Auschwitz said "Work sets you free" Lord and Lady save us from that freedom.
Of course, the other side of the coin of freedom is restraint. Which isn't so bad if you enjoy it. Yes, freedom is a great aphrodisiac. But restraint is a close second. If that's your thing. There are different kinds of restraint, control, bondage, or as they say en français, "ligottage," the gentle art of tying up your sex partner, with anything from bondage cross handcuffs to putting a hood over your head to the invisible shackles of your mind over your partner's matter, the purpose being to enhance excitement, not to overcome reluctance. Consensuality is the key to this delicate erotic art, the sensual science of restraint. Without consensuality, well, then it's called torture, and there you have it: Operation Iraqi Freedom. Freedom's just another word for nothing left to lose. Are we're losing it, here in Bush's America's, on our 230th 4th of July?
Well, we've always got fireworks. But don't be popping off those amateur firecrackers now; or you could be popping off some fingers. And how you gonna finger anybody with no fingers?
Or you could just play it safe and watch "Orgasmic Freedom on the 4th of July" with "100% fuckable" brunette bombshell Dana DeArmond on RadioSuzy1TV. Happy B-Day, USA!